WordPress Implementation
.
While WordPress has been around for years, it has matured into an extremely comprehensive website platform. It's ease of use, web customisation and short learning curve makes it a client's favourite.
WordPress Implementation
.
While WordPress has been around for years, it has matured into an extremely comprehensive website platform. It's ease of use, web customization and short learning curve makes it a client's favorite.

WordPress has evolved to be one of the most popular content management systems. While it used to be known only for it's blogging capabilities, WordPress now provides the capabilities to manage a full-fledged website. Customisable and profitable, some of the advantages of WordPress include: ease of use, variety of back-end features, and a great number of customised plug-ins available at low or zero cost. WordPress's CMS allows you to customise and control the content of your website easily, as compared to the traditional html site of old, whereby you will probably need some programming knowledge to update the site or engage web development agencies to update your content. In fact, WordPress is powering a lot of websites on the Internet, including blogs, informational websites and ecommerce websites.
Still not convinced? Read this article by AXcess which highlights the relevance of WordPress for business development today.

Full customisation or ready-made themes (for budget sites)
Ongoing WordPress maintenance keep all plug-ins and themes up-to-date
Responsive website design for mobile users
Configuration of plug-ins and widgets to increase the functionality of sites
Blogging and commenting customisation
Site optimisation and plug in tools to assist with SEO
Powers 30% Of The Internet
.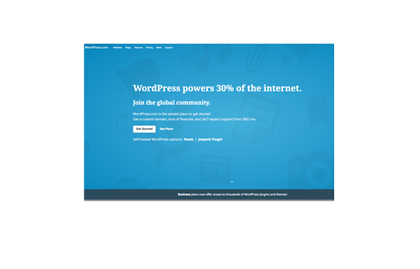 After years of improvement, WordPress has blossomed into a stable website content management system. Users praise it's beginner-friendly functions and customisable web functions. In fact, WordPress is our most requested platform for website development!
WordPress Design Customisation
Contrary to naysayers who contend that WordPress is restricted to templates and have boring, same old designs that are similar with everyone else on the Internet, WordPress can be fully customised. We can design the website from scratch, and then integrate with the WordPress framework. This way, you can enjoy the full features of WordPress with your own artistic touch. However, if you are on a tight budget, we can also make use of existing WordPress templates to build websites, with some customisations to suit your company's brand.
If you're needing some inspiration for your WordPress template, click here!
You may also include a blog for your website, to keep your website current and relevant. It will also help you rank higher in search engines for your keywords. This is highly profitable!
Responsive Design
WordPress is both desktop and mobile friendly. With a growing pool of mobile phone users, it is of utmost importance to make sure your website works perfectly on both a variety of electronic devices. WordPress knows that your screen sizes of mobile phones and tablets are smaller compared to computers; therefore they have adopted the mobile-first approach. This just means that your websites are viewable on all devices.
SEO Friendly
Search Engine Optimisation is crucial to directing more traffic to your website. WordPress is search engine friendly as they have ready-made plugins proven to improve SEO for your website.